Rice Alumni
We are always proud of our alumni - one of our greatest resources - and we love when they connect with future students. By sharing their knowledge, skills and wisdom, alumni pass on the culture of care that Rice is known for. Owls take care of each other, supporting their classmates and community.
Body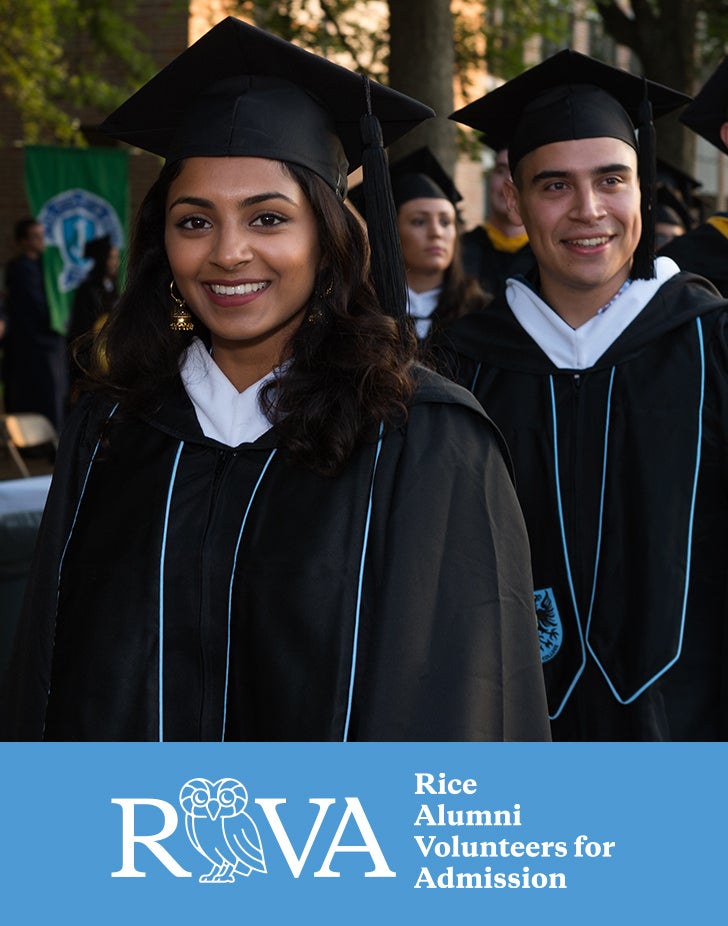 Rice Alumni Volunteers for Admission (RAVA)
Do you have a passion for Rice and want to share? Then we're looking for you! Joining RAVA is a great way to connect with future students while sharing all the ways Rice impacted you. RAVA members can volunteer to be an alumni interviewer, to represent Rice at college fairs, to connect with prospective students, or to help with local admission gatherings for prospective students.
If you have any questions, reach out to us at rava@rice.edu.
New to RAVA? Sign up Here »
Existing Member? Log in to the Portal »
UNCONVENTIONAL ALUMNI
Owls don't just learn - they do. And nobody embodies that better than our alumni who are out there right now, using the skills they learned at Rice to change the world.
Body
LOCAL ALUMNI GROUPS
Owls stick together, even beyond campus. Use the link below to find your local alumni group and connect with Owls in your area through a range of events and programming.
Connect with Local Owls
Body
HOURS
M-F 8:30 a.m. to 5 p.m. CT