Rice University's fall semester officially came to a close on December 3rd. You know what that means: It's officially finals season! With that comes final projects, papers, exams, and much more, which can be a very stressful time for students. That's why many student organizations and residential colleges at Rice are hosting fun activities to promote wellness and mental health across campus during Dead Days. This two-day study period is a great break and energizer for students right before the upcoming finals period on December 8-14. Here's a roundup of our favorite study breaks across campus! 
Falling asleep while studying? In our Grand Hall, the Rice Program Council hosted a slumber party last night to relieve student stress and eat some delicious food for free! Students were instructed to BYOB: bring your own blanket. Whether it was serving Thai food, enjoying a candy and popcorn bar, or making DIY snow globes, there were plenty of activities for students to relax amidst a stressful period. 
For those who needed a little zen and mindfulness going into Dead Days, The Rice Women's Resource Center (RWRC) hosted a guided meditation on December 5th. This free event also fueled students with delicious Crave Cupcakes and tea. Another upcoming study break hosted by the RWRC is a holiday party on December 7th. Attendees can relax the night before finals begin with card games and hot chocolate.
The residential college system is a much needed support during this strenuous period for students. Core teams, consisting of residential associates, magisters, and college coordinators, also hold study breaks for students that serve as an opportunity for inter-college bonding. We wanted to spotlight some of the many events within colleges campus-wide. 

McMurtry College
As you can tell, we are big fans of free food at Rice. And our residential colleges understand that. On December 6th, McMurtry College hosted a special breakfast for its students to get some tasty food before studying for the rest of the day. Popular items included seasonal fruit, pastries, and an especially well-received parfait building station. Murts were able to get the perfect healthy meal to start off their busy day!

Martel College
To get into the holiday spirit, Martel College held a cookie-decorating study break on December 6th. Complete with homemade gingerbread cookies and hot cider, this study break definitely got Martelians excited about the holidays and the upcoming winter break. This study break was perfect to relax before the finals hibernation period.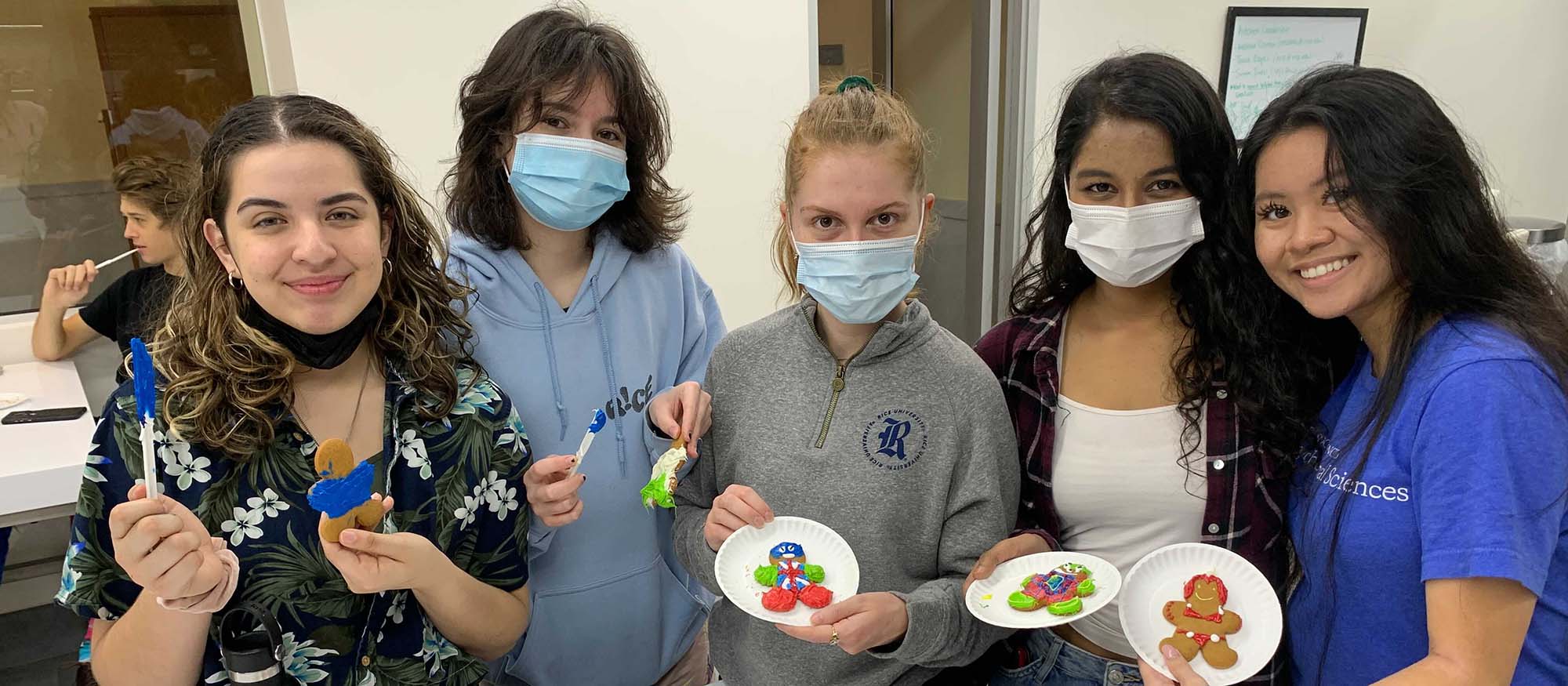 Even our very own Fondren Library is especially accommodating during this stressful time! On December 7th, the library is offering students coffee and snacks (to fuel the finals grind) and the opportunity to craft a homemade ornament. If crafting isn't your forte, they are also offering breaks with therapy pets throughout the week. There's nothing like a snuggle session to get a serotonin boost before tackling your day. 
At the end of the day, finals can be challenging, but Rice Owls get through it together!